NEWS
January 08,2019 - Staying on course - Despite national downturn, golf thrives here
Yoursun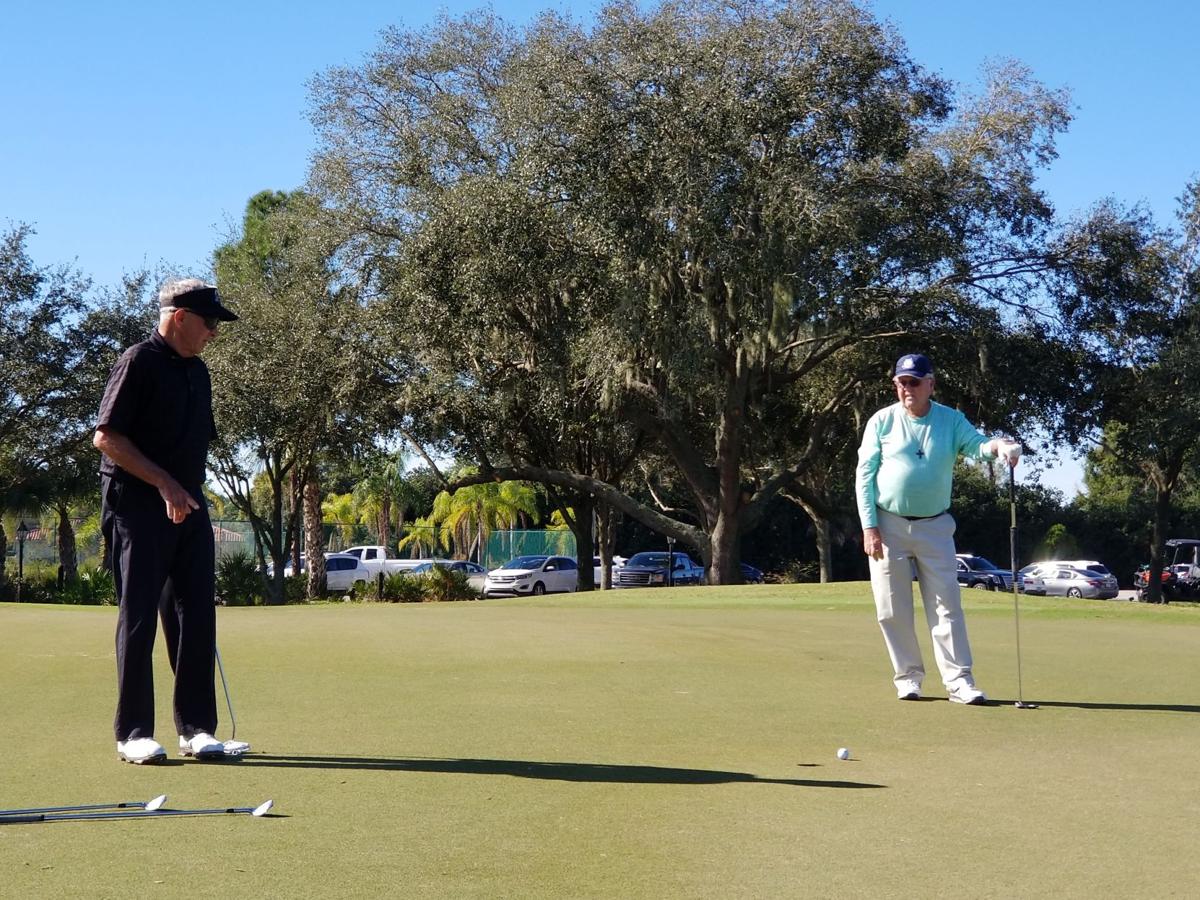 If the golf industry is hurting, no one here got the message.
Considering the recent Lennar Home Builder's announcement of plans for Heritage Landing in Punta Gorda, along with Babcock National in Babcock Ranch, and the Allegiant Travel Co. takeover of Kingsway Country Club, the sport seems to be alive and well around here.
According to pga.com, there are dozens of public, private or semi-private courses with varying price ranges throughout the region including at least eight in Punta Gorda; five in Port Charlotte; 18 in the Venice area; seven in Rotonda West; five in North Port; one in Lake Suzy; four in Lakewood Ranch; six in Englewood; and four in Arcadia.
Nationally in 2017, around 200, 18-hole golf courses closed down in the United States as opposed to only 15 equivalently-sized courses having opened, according to the National Golf Foundation's 2018 Golf Industry Report. Around 15,000 facilities are currently operating in the U.S.
But golf here appears to be thriving despite that national trend.
"There are more closing than opening (around the country)," said Charlie Priester, PGA general manager at St. Andrews South Golf Club in Punta Gorda Isles. "The golf industry over the last few years hasn't been all that healthy. I don't think it is back to where it was in the early '90s. Business-wise, it's still in the correction-type atmosphere. Back in the day, they built too many courses and we don't have enough players."
But that's not necessarily happening in the state or region.
"I think we might be recession proof (in Florida)," said T.K. Matthews, PGA general manager at Myakka Pines Golf Club. "I just moved up here last year (from Naples) and when the country was having tough financial times (around 10 years ago) it didn't touch Naples. I think we in Charlotte County are going to be one of the fastest growing parts in Florida in the next five to 10 years."
St. Andrews South Golf Club, Punta Gorda Isles
St. Andrews is one of the only fully private clubs left in the area, according to Priester.
"Nationally, there is a trend to make them more open to the public … more accessible (to boost the game)," said Priester. "In the past, there were a lot of the courses that were private going to semi-private. What we have now is the highest public to private ratio in game history."
One rising trend in the golf industry, locally and nationally, is to also make the game more accessible to players of all capability, to make the courses more user-friendly.
"You have to be real careful not to make it too difficult," said Priester. "People who can afford it — and golf is not cheap — if they go out and get beat up day in and day out, they're going to say, 'this isn't going to be fun'. In trying to get new golfers on the course, if they are out there for too long and get beat up they are just going to quit. Golf needs to be more accessible and affordable."
Kingsway Country Club, Lake Suzy
Kingsway Country Club, while it does have club members, opened to the public after Hurricane Charley in 2004 and the economic downturn of 2008-09.
"I don't know the exact date, but the members made the decision to open to the public (to help with business)," said David Kent, PGA general manager at Kingsway Country Club.
Kent is nearing the end of his first month at Kingsway in Lake Suzy. Allegiant Travel Co., owners of the planned Sunseeker Resort, purchased the property in July 2018.
At Kingsway, Kent said that they are implementing a myriad of changes and considerations from personnel to infrastructure of the property, and down to the "crown jewel" of the club — the golf course.
"A significant improvement of personnel was made before my arrival with the hiring of a new golf course superintendent, Brad Caporini." said Kent. "The improvements for the course with him and the programs that he is implementing are palpable (and) are remarkable."
Attempts to speak with Caporini were not immediately successful.
"It's his agronomic practices," said Kent. "It's with what fertilizers he uses, what sods he uses. The way that he works his greens maintenance, (that's) the most significant improvement that golfers at large find to be an integral part of enjoying their experience here."
On the 18th hole, Kent said they hired a tree removing service to pull several trees that were narrowing the fairway (making the hole more difficult) and destroying the turf.
"The turf quality in general is much healthier," said Kent. Turf and trees, by and large, don't mix and when you have too many trees in playable areas on a golf course, it can hinder the quality of the turf and the ability to keep it in pristine condition."
Rick Bailey has been a member at Kingsway since 2004. He's been pleased with the changes going on at the course and the club, including the tree removal at the 18th hole.
"They've taken down a lot of trees," said Bailey, "not necessarily because they want to just take trees down but there were holes that were not really fair and you can even say that in golf course design. There were some trees like over on 18, it could be a really good hole but it wasn't and now it is."
There weren't any major redesign or renovations planned, on paper at least, to attract more guests to the club, according to Kent, but there has been an increase in business since Allegiant's takeover.
"I think most of our members are very pleased because we were able to upgrade the course and they were able to make a lot of improvements and that was good for everybody because the course was on a downhill trajectory," said club member John Peterman. "This is a wonderful layout and with the right amount of maintenance it could be a really special place."
Charlotte Harbor National Golf Club at Bobcat Trail, North Port
Charlotte Harbor National Golf Club at Bobcat Trail in North Port has been undergoing renovations since it was taken over by Rich and Ellen Smith in June 2017.
David Hronek, PGA director of golf at the club, said they've been trying to put the fun back in golf with their upgrades and changes.
"We're trying to make it more fun for people," said Hronek. "If you have a golf course that every handicap player from beginner to professional can come out and play the golf course and enjoy themselves … have fun and have them not feel like they just got beaten up (by the course), I think that makes a great golf course."
Hronek said that he didn't think that there has been a decline in golf as far as popularity but that play has declined some since the recession in 2008-09.
"I think what happens is when the recession hit, people didn't play as much because of the cost factors. I think it's a popular sport," said Hronek. "As a PGA professional, I think it's a time factor. People don't have four or four-and-a-half hours to play. I think it's upon us to figure out how to get people out on the golf course and get people to have fun. You have to make sure that people are having fun, that they enjoy their time at the facility."
Some of the ways they are beefing up the fun of the game at Bobcat Trail is through promotions.
"We have a hole in one challenge at my facility that will be operational in January," said Hronek, "If they get a hole in one on one of our particular holes — and we have cameras set up at each hole to film it — they can win $10,000 in cash."
Myakka Pines Golf Club, Englewood
It's been up and up when it comes to the bottom line at Myakka Pines, according to PGA General Manager T.K. Matthews. He has only been with the 41-year-old golf club for a year, but in that time, he said they haven't seen any signs of golf slowing down.
"I think (golf is big) in all of Florida really," said Matthews. "We saw an increase of 5,000 rounds last year which is a huge increase in the bottom line. We expect the same increase this year. I think the Charlotte County area will be the next fast growing area in Florida."
Golf's popularity in Southwest Florida — and most of the state — comes down to the weather.
"Up north, players have a hard time because it's such a short season," said Matthews. "We are blessed with year-round good weather, 365 days a year to play golf. People up north with six-month (or so) seasons are at a disadvantage."
Technology is also playing a big part in attracting more people to golf, whether it's GPS systems in the golf carts or even ways to keep track of your play compared to other players at the course.
"We have a whole new cart fleet with GSP," said Matthews. "We just had a men's inter-club event where you can put the scores in your cart and see (where you stand on) a leaderboard. Technology is making a big difference in golf for Millennials. Our carts have phone chargers in them. If they want to listen to music they can. Our players are also capable of listening to music and (even) watching (televised) sports and games. We haven't done that yet but we think that is something people will request in the future."
At Myakka Pines, the membership demographics still skew to an older crowd, according to Matthews, but their public play continues to show signs of younger generations. The semi-private club is also a part of a program that allows players to book their tee times through a phone app.
"Sixty percent of our public tee times are booked through a phone app," said Matthews. "The new younger people are using their phones … booking times on the phone which increases play like crazy, just because the app is available all the time."
Matthews believes one advantage for Myakka Pines is that they don't have any housing on the club's property.
"We have a niche here — 27 holes, no houses," said Matthews. "Members and players can walk the (full) course; it's like playing golf in a wildlife reserve. If they build a golf course nowadays, they are going to build houses around. There are just too many hoops to jump through. This club is 41 years old. We didn't have the issues they have nowadays. Having a bundled community helps protect the golf course's (longevity)."
National golf trends
Despite the golf course closures of 2017, the NGF 2018 report did show that golf's participation on a national level remains stable with an estimated 23.8 million people who played a course in 2017.
It also showed that the number of U.S. non-golfers who said they are "very interested" in playing at a golf course hit a new measured high of 14.9 million, which is a 16 percent jump since 2016. This continued increase in demand helped boost the number of golf newcomers in 2017 to 2.6 million for the fourth year in a row.
"I don't necessarily have a doom and gloom outlook on the game," said Kent. "Let's say golf is flat as opposed to saying that it's growing or declining. It's macroeconomics. If you have a supply that outweighs a demand, it would point to golf courses perhaps needing to close."
Juniors, 6 to 17, and young adults, 18 to 34 comprised more than 37 percent of all on-course golfers — with 2.7 million junior participants and 6.2 million young adults — according to the NGF 2018 report.
"I think the growth in junior golf speaks to the future being brighter than some thinking that golf is a dinosaur or it's a thing of the past and it takes too much time," said Kent.
New golf, country clubs on the horizon locally
In a November press release, Lennar announced plans for Heritage Landing in Punta Gorda. The golf and country club community will be situated on the west side of Burnt Store Road, just five miles south of U.S. 41.
Lennar hopes to begin selling homes in early 2019 for the community, which will offer the 18-hole golf course, a resort-style pool, a fitness center with sauna and a tennis court.
Lennar also plans to open a golfing community on Lake Babcock just north of downtown Babcock Ranch.
Babcock national will include a private entrance, condominiums and estate homes, a country club restaurant, pool, bar and championship-level golf course.
"I think golf is big in Charlotte County because golf, in general, in Florida is popular," said Hronek. "Down here you have golf, the beach or tennis. Florida has always been a mecca for golf as far as the industry for years."