NEWS
May 12,2020 - Pulte's Built to Honor Program Recognized as 2020 Hearthstone Award Winner
Builder Online

The company-wide program provides mortgage-free homes to U.S. military veterans and their families.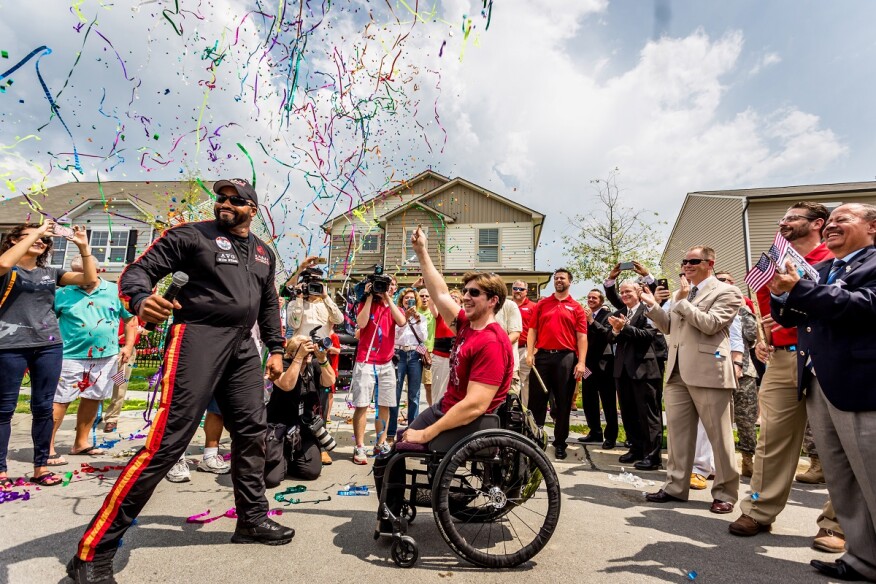 In March of last year, Sgt. Howard Appleby was on a tour of Babcock Ranch, a solar-powered master-planned community in southwestern Florida. Turning a corner, he saw an open lot with a billboard with his name on it and a small crowd, there to celebrate the surprise groundbreaking of his new home. "I started crying, and my wife was in shock—we couldn't believe it," he recalls. "Everyone was clapping and waving the American flag, saying, 'Welcome home!'"
Thanks to Pulte's Built to Honor program, Appleby, a veteran of the Iraq War, his wife, Yoland, and their four children were able to move into a four-bedroom, 2,100-square-foot home built and furnished specifically for their family, at no cost to them. His home is one of 56 houses that have been constructed by the program since 2010, and another seven are on the calendar. Each home represents $400,000 in donations, so in total the homes are worth more than $20 million. As the largest such program in the home building industry, Built to Honor gives U.S. veterans the chance to experience what some would consider the ultimate American dream: owning their own home.
"Hearthstone is proud to recognize Pulte as our public home builder winner for its leadership and commitment in support of our veterans and their families as they rebuild their lives here at home," says Mark Porath, CEO of Hearthstone, the largest institutional investment company focused on residential home building. "The Hearthstone team is honored to do our small part to support Pulte's great work on behalf of Built to Honor." Hearthstone will make a grant to the program; the exact sum was not available at press time.
Officially launched as a company-wide program in 2013, Built to Honor started back in 2010, when individual divisions sponsored a couple of homes. Pulte donates the lot on which the home is built and the staff time for project management, and it typically pays any other costs that are not covered. The firm coordinates in-kind contributions from trade partners, who donate the labor, and from suppliers like James Hardie, Cosentino, and Whirlpool, who provide building materials and furnishings. These production homes are personalized, decorated, and delivered fully furnished to the veterans and their families.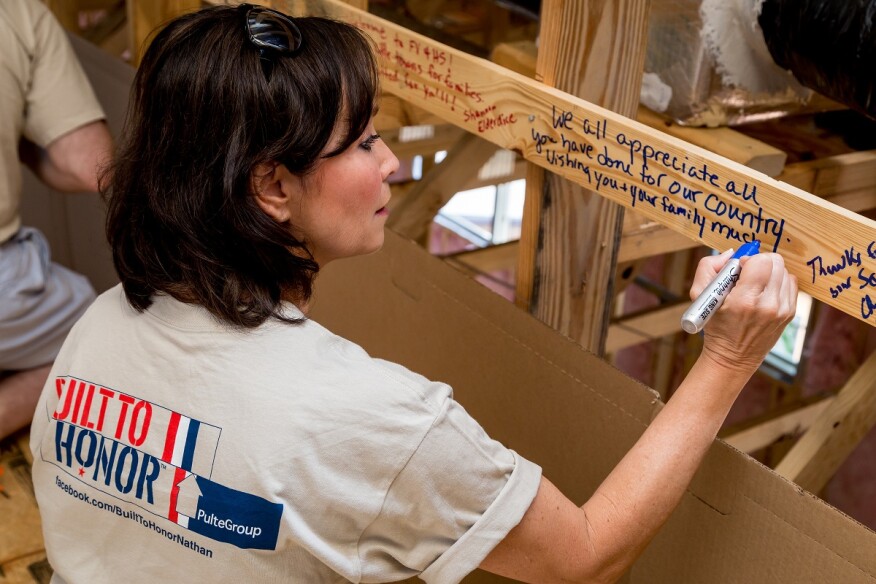 "We're so humbled and grateful for this honor. It makes you realize, when you think about it, what a wonderful thing we get to do for a living," says Ryan Marshall, president and CEO of PulteGroup. "We and our partners get to play a major role in one of the most meaningful parts of people's lives, their homes. Getting to do what we do for the benefit of people who need homes, need communities, need the kind of connections we're good at—it adds a level of purpose and mission to our company."
As a group, veterans have particular difficulties in finding housing. Affordable housing is in chronically short supply, and a considerable percentage have injuries and post-traumatic stress disorder (PTSD) to contend with as they transition back to civilian life. According to the National Coalition for Homeless Veterans, 11% of the adult homeless population are veterans. The Department of Veterans Affairs has a range of programs to help address these issues, and a number of veterans' organizations specifically focus on housing.
"Veterans' groups have historically acquired distressed housing from banks to remodel and donate," says Jim Zeumer, vice president of corporate communications at PulteGroup. "Our program is the largest in the industry to construct brand-new homes that are designed for specific veterans and their needs."
Each year, Pulte surveys its divisions across the U.S. to find out which ones are interested in participating in the Built to Honor program; it then initiates a search through veterans' housing groups such as Operation Finally Home and Operation Homefront to pair the opportunity with a veteran.
"It's important that the veteran has local connections and a support structure, that the community and home make sense for them and their families, and that they can carry the ongoing fees for maintenance and utilities," says Zeumer, who helped launch the program and has been involved ever since. "The home should be a stepping stone, not a millstone. So there is an extensive process to find a good match between the home and the circumstances of the veteran."
Appleby, who is originally from Jamaica, joined the army after 9/11, hoping to build a long-term career in the military. He served two tours of duty in Iraq as a combat engineer, clearing routes of explosives. After getting hit by multiple IEDs (improvised explosive devices), he was diagnosed as permanently disabled with traumatic brain injury and PTSD, and he was honorably discharged in 2011. He returned home to Cape Coral, Fla., where he connected with an organization called the Wounded Warriors Project. Through a contact there, he learned about Operation Finally Home, a national nonprofit that works with builders to create homes for veterans.
Once the veteran has been chosen as the recipient of a Built to Honor home, they receive the good news through a surprise announcement. Appleby thought he was going to Babcock Ranch for an interview when he saw the billboard. Other veterans have learned they've been selected during halftime at football games or at other public sporting events. "All of these venues offer a chance for people to recognize and appreciate their service," says Zeumer.
Based on the veteran's needs, the floor plan and home design are adapted accordingly. For wheelchair accessibility, Built to Honor homes have featured zero-threshold showers, wider hallways, lower countertops, and pull-down cabinet shelving. Some homes have included quiet rooms with extra insulation and blackout shades for veterans with PTSD or migraines. Appleby's home was modified to have a larger living room to provide more room for his children—10-year-old twin boys and a 5-year-old daughter, who have since been joined by a little brother.
"We want to recognize that the individual is important," says Zeumer. Veterans and their families also visit a local Pulte design center, just like any other new homeowner, to select colors, flooring, countertops, light fixtures, and other elements of the house.
During construction, before the drywall goes up, employees, suppliers, contractors, and neighbors are invited to write "notes of love" on the walls—an idea borrowed from Operation Finally Home. Zeumer recalls how in one case, a school bus full of students showed up and wrote eloquent notes to the veteran, whom they had never met. "A nearby high school had heard about the house and converted it into a writing project," says Zeumer. "You never fully understand how far-reaching these projects are."
After the home is built, the designers furnish and decorate the home, based on the information they've gleaned by interviewing the veterans and their families. Furnishings are donated from suppliers such as Ashley Furniture and Wayfair. Much like an HGTV home makeover show, the veterans see the end result for the first time at an official dedication. As Appleby and his family toured their new home, his daughter was delighted by her Tinkerbell room, and the twin boys got their wish with a soccer-themed design.
"When we get the entire builder team and partners together to turn over the keys to the new homeowner, there's not a dry eye in the room," says Marshall.
Appleby, who is currently a stay-at-home dad, says the home has been life-changing. "I have to pinch myself again—I just look around me and say 'Wow,'" he says, six months after moving in. While he continues to suffer from headaches, depression, and anxiety, he thinks the new environment is making a difference.
"I can feel so much from the walls, I can imagine and see the notes of love," he says. "The way I look at life now is different. I feel so much better within myself—I have the hope and strength to keep going."