NEWS
October 02,2017 - Parkside Neighborhood Set at Babcock Ranch
Sarasota Bay Real Estate

SARASOTA, FLORIDA, September 27, 2017 – The Palm Beach Gardens-based Kitson & Partners has recently added Parkside as another neighborhood in its 17,000-acre Babcock Ranch project in Charlotte County, which is touted as the world's first solar-powered city.
National homebuilding giant Pulte Homes is the designated builder for Parkside's plat of 150 home sites. In these 50-foot lots, Pulte plans to construct Charlotte homes for sale priced from the $200s up to the mid-$300s.
Prospective buyers in this neighborhood will have a choice on one- or two-story single family homes. Planned floor areas range from 1,600 to more than 3,000 square feet in two- to five-bedroom designs. These residences, as their neighborhood's name suggests, are set for construction adjacent to a community park.
Lake Timber and Lennar's Plat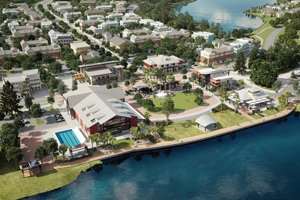 Pulte Homes is likewise girding to build in Lake Timber, the first neighborhood in Babcock Ranch where several models from other builders have already been constructed. Pricing starts at the high $200s for the Pulte builds in Lake Timber laid out just across the community center Founders Square and Lake Babcock.
Another major national builder, Lennar, is establishing its presence in Babcock Ranch. Kitson has contracted with this Miami-based builder for the construction about 180 homes in a yet unnamed Babcock neighborhood southeast of Founders Square. Its site has been platted adjacent to the master development's school and community park.
Lennar's builds in this Babcock Ranch neighborhood will consist of split villas and single family homes. All will showcase the environment-friendly theme and front-porch oriented lifestyle in the Kitson master development. The villas' price starts at about $180,000, while the low-$200s goes for the single family homes.
More Models for the Picking
Five other builders are committed to the Babcock Ranch project, which has already drawn the interest of the Realtors Association of Manatee and Sarasota too. A Naples-based builder, Stock Development, has already built four models in the project's Lake Timber neighborhood.
Stock Development's Babcock Ranch builds are single family homes with floor areas of between 2,600 and 3,750 square feet mostly in attractive three-bedroom designs. Priced starting from the low $300s, these residences feature covered porches at their front and rear for a distinctive home living from front to back.
Homes by Towne, a unit of Milwaukee, Wisconsin-based Zilber Ltd., also has completed home showcases at Babcock Ranch. Its models on display are furnished and with floor plans of 1,860 to 3,071 square feet and starting prices in the mid-$300s.
Higher-end Choices
Florida Lifestyle Homes of Fort Myers has likewise completed its Taylor model in Lake Timber with two other home designs in the pipeline. This Taylor model, also furnished, is priced in the mid-$700s, featuring three bedrooms and three baths within its floor area of 2,500 square feet.
Another Fort Myers-based builder, Castle Harbour Homes, and Fox Premier Builders from Naples are bringing in additional home styles and floor plans in Lake Timber. Castle Harbour's first entry in Babcock Ranch is its Fort Davenport furnished model with a floor area of 2,845 square feet designed with three bedrooms and a base price in the $700s. Its second model is on the drawing boards too and is priced in the $600s, set for a floor plan of 2,582 square feet.
Starting prices in the $300s, meanwhile, have been announced for Fox Premier Homes in Lake Timber. Its builds, like other construction in Babcock Ranch, will be compliant with the standards of the Florida Green Building Coalition in keeping with this development's environment-friendly theme.