NEWS
June 23,2020 - Look out for the new 'Lake Babcock Lookout' tower
Your Sun Charlotte News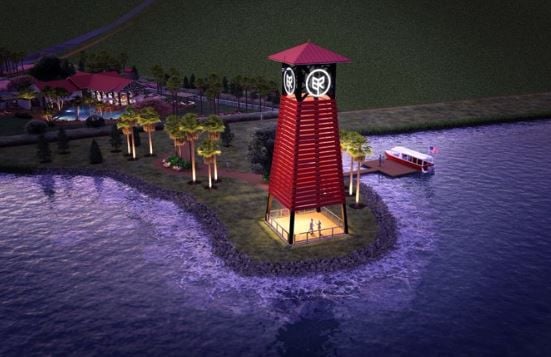 BABCOCK RANCH — Construction is underway on a new tower and residential lodge at Babcock Ranch in Charlotte County.
Both the "Lake Babcock Lookout" tower and Cypress Lodge are expected to be completed and opened this fall.
"The tower is another iconic structure for our town like the bridge at the opening … something that really creates a feeling of place," said Lisa Hall, Babcock Ranch spokesperson.
The tower − expected to stand at about 65 feet in height − will be open to the public and is located on the town's public pathway, extending from Founder's Square, also a public area.
"It is not an overlook for people to climb up but rather a lighted tower that itself overlooks the lake," Hall said. "It will have a pretty sophisticated lighting that will be themed for seasonal celebrations, etc."
An open pavilion is planned for the bottom area of the tower and will serve a variety of uses.
Cypress Lodge will be a new lakeside clubhouse and activities center for residents, stretching around 17,000 square feet.
Some of the features of the lodge include cabanas, a 2,000-square-foot pool, outdoor seating areas with fire pits and a game lawn.
The most recent total home sales for the town are at 714 with 208 of those homes sold this year to date, according to Hall.
"(There have been) 539 homes completed and occupied," Hall said, "so the town's population is approximately 1,347."