As I stood along the shoreline and sipped on my organic Chiapas dark roast, the sun started to peek over the eastern edge of Lake Babcock. The pine flatwoods off in the distance seemed to cradle the bright golden rays as they glimmered down from the sky.
Nearly 250 acres of bass fishing wonderland stretched out in front of me, just begging for an assortment of well-placed casts. I'm not sure whether it was the anticipation of the hours ahead, or the dark roast Chiapas, but I can tell you that my heart skipped a beat.
Without question, Babcock Ranch was a switch from my usual freshwater fishing venues. For example, instead of a protein bar or peanut butter and jelly sandwich for lunchtime sustenance, I had a farm-to-table restaurant (Table & Tap) and organic garden salad topped with blackened mahi waiting for me following my angling adventures.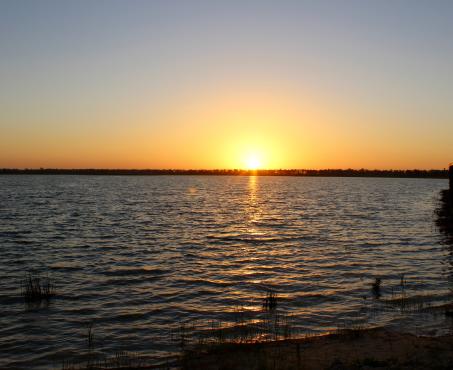 Sunrise at Lake Babcock in Babcock Ranch,
Lake Babcock Bass Fishing by Kayak  
Lake Babcock is just one very small part of what is considered to be the largest conservation land acquisition in Florida history, an acquisition that encompasses nearly 17,000-acres as well as America's first solar-powered town. It felt pretty remarkable to be standing on this particular lake shoreline at Babcock Ranch for these reasons alone, but then there was the opportunity to catch and release a few sizable largemouth bass.
While there was a fishing dock available for public use, the adventurous spirit in me was all about covering as much of the lake as possible in a rented kayak. Besides, with a kayak rental rate of just $10 an hour, how could any freshwater fishing aficionado pass up the opportunity to investigate every point and drop-off?
So there I was, with a bag of 5-inch Gary Yamamoto soft plastic Senkos, my medium action fishing rod, and a rented kayak from Curry Creek Outfitters. Excitement bubbled up inside me as I launched the kayak from the shoreline and began my quest.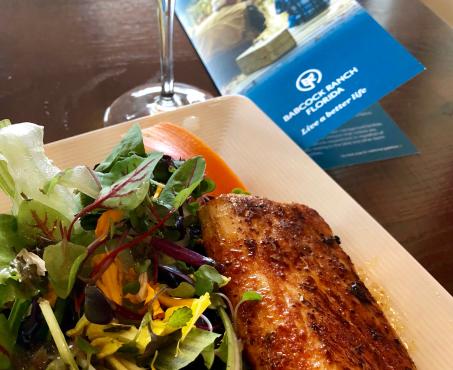 Lunch at Table & Tap, Babcock Ranch
Largemouth Bass Success
After paddling along the western edge of the lake for about 20 minutes, I began to pay close attention to areas where a shift in the water's hue indicated a variation in depth. I located a secondary point, then opened up my bail and launched my watermelon-colored soft plastic offering out into the gentle waves while hoping that a chunky bass would be eagerly waiting for breakfast.
As my bait fluttered down toward the bottom, I felt a hard hit. Mere seconds after setting the hook, a fine specimen of a Micropterus salmoides shot up out of the water and gave me a grand headshake. I scrambled for my silicone landing net, carefully scooped up my catch, and estimated her to be about 6-pounds before releasing her back into the depths from whence she came.
I paddled on for a few more hours, catching a few more respectable fish around 14-inches while enjoying the solitude of Charlotte County on a September day. However, the memory of my first Lake Babcock largemouth bass remained the most vivid.
For more information on catch and release fishing experiences through Curry Creek Outfitters at Babcock Ranch, call (941) 467-1485. Check out our fishing page for license information.