NEWS
September 19,2018 - Another first at Babcock Ranch - Neighborhood school unveils self-driving school buses
www.yoursun.com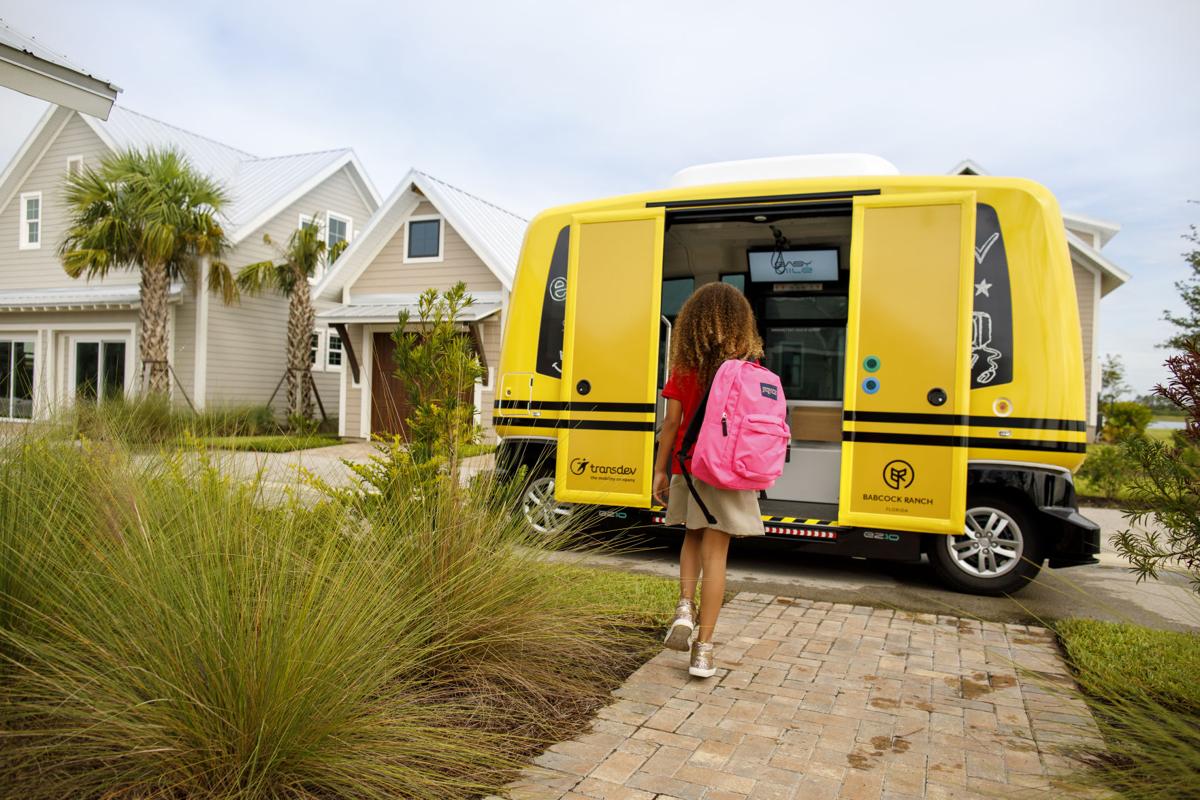 BABCOCK RANCH — In another leap to become a city of tomorrow right here in Charlotte County, Babcock Ranch revealed plans for self-driving school buses.
Painted a traditional and recognizable yellow and black, the shuttles will help bring transportation to Babcock Neighborhood School's 300-plus students.
"What we've been talking about from the very beginning is transportation," said Syd Kitson, chairman and CEO of Kitson & Partners, the developer behind Babcock Ranch. "They are electric, solar-powered vehicles and we think it's a great, safe way to get kids to and from school. It's a wave of the future."
The first-of-their-kind, 12-person shuttles are provided by Transdev, a global mobility operator, and reach a cruising speed of eight miles per hour — though they will eventually be capable of reaching 30 miles per hour. Transdev also states the vehicles have a reaction time 30 times faster than a human.
"We've been working on this for a very long time. We want to be a living laboratory for these kinds of technologies but, first and foremost, is safety," Kitson said.
A safety attendant is set to remain on board, though "the route and operation will be fully autonomous," Transdev stated in a press release.
Babcock plans to begin shuttle transportation this fall and parents and guardians will be invited to experience the school buses themselves as they are being instated.
For now, the buses will use a designated pick-up/drop-off area, however, Transdev plans to eventually offer door-to-door service, on demand, through a phone app. This means students can be picked up directly at their house in Babcock Ranch in a way that suits their schedule — no more waiting in the rain at a stop or chasing after the bus because you took an extra minute to finish breakfast.
Similar vehicles will be used as regular public transportation, as well, and can already be seen driving around Babcock's quaint downtown.
Like normal public transport, the buses will be available to anyone on a "pay for play" basis, according to Kitson. The ultimate goal of the neighborhood is to be as environmentally sustainable as possible.
"We're hoping it just becomes a substitute for people driving," Kitson said.
"It's just another part of Babcock Ranch we're very excited about and it's the first of its kind, happening right here in Charlotte County."